To keep up with an ever-evolving world, this eco-conscious company is doing their part to be kinder to the earth and preserve our natural resources. These eco-friendly timepieces from Sprout are made from people who are nothing less than environmentally aware. Producing watches for over 50 years, Sprout watches carry a 100% biodegradable case and buckle, a natural bamboo dial, mercury-free battery, a mineral crystal lens and a 100% organic cotton strap. Sprout is insistent in making the most eco-friendly watch possible and with their unique and colorful designs.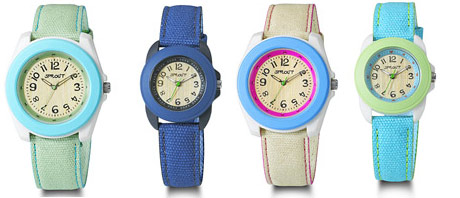 Sprout watches are in two sizes. The small size sprout watch is 80% eco-friendly while the larger size watch is 86% eco-friendly. All watches are in compliance with the CPSIA and are lead and phthalate free. The corn resin that is used is in full compliance with the American ASTM D6400 as well as the European EN13432 standards for compostable material. Through their corn resin used to make each watch, the shelf life is similar to regular synthetic plastics meaning it will not break down during regular wear and use.
The majority of the cotton used in the world is made with toxic chemicals, but not Sprout watches. Sprout watches are 100% organic and that means that they are grown using methods and materials that have a low impact on the environment. The cotton used is grown without the use of toxic and persistent pesticides and synthetic fertilizers making these watches extremely eco-friendly.
The bamboo used as the dial of watch is eco-friendly based on its properties as a natural fiber, a quick-growth plant that sequesters greenhouse gases, and a renewable plant that can grow back after its three to five year harvesting period. It largely doesn't need chemicals, pesticides or fertilizers to grow and this is why it is added in the watch. As for the lens, most of the medium price range of watches is made from plexiglass, which is a type of synthetic plastic. Sprout watches carry a mineral crystal lens which is a type of glass made from sand.
Sprout watches only use Mercury-free batteries and the reason for this is because exposure to even small amounts of it can cause negative health effects including damage to the brain, kidneys, lungs and a developing baby. The packaging for the watches is made from at least 80% post-consumer fibers and it is both recycled and recyclable. More on these watches and the entire collection can be checked out at www.sproutwatches.com